Buying a Car
Deciding what vehicle best fits your lifestyle, and your wallet, should involve careful consideration.
Contemplating buying a vehicle can be exciting as you consider all the options available to you, from compact cars to large pick-up trucks, domestic versus imports, new or used. 
Should I buy a new or used car?
There's nothing like that new car smell, but new cars typically lose value more quickly than used cars. If you do buy used, be sure to check the car's history through a service like CarFax. To find typical prices by region on both new and used cars, visit a service like the National Automobile Dealers Association (NADA).
What are the relative advantages of leasing versus buying?
When you buy a car, you own it once it's paid off. When you lease, you're essentially renting the car, so you won't have an asset at the end of the term. On the other hand, lease terms can offer flexibility if you like to upgrade your car frequently.
What are my auto loan options? Do I need to use dealer financing?
You can finance your new car through On Tap Credit Union. Simply contact us first to get pre-approved, and then let the car dealer know you'll be financing through your credit union.
How much should I spend on a car?
Everyone's situation is different, and what you can afford depends on your income as well as your other financial commitments. Use one of our online calculators to help you determine how much your payments will be. And talk with an On Tap Credit Union Financial Advocate to decide how much you may be able to finance and what rate you may qualify for.
A new vehicle is a significant investment
Used cars cost less, of course, but still take a hefty toll. Financing with an On Tap Credit Union auto loan can ease the process, with instant online approval that you can take with you to the dealer or private seller. Our low interest rates will save you money over most dealer offers, even 0% offers that often mean you can't take advantage of manufacturers' rebates.
On Tap Credit Union also partners with trusted auto-buying services that can help ease the stress of buying a car. They'll do the research to find the car you want, arrange for a test drive, and even negotiate the price with the dealer for you so you never have to worry about haggling!
We also offer a variety of insurance and protection plans to help protect you and your vehicle. You can get a free insurance quote anytime by phone or online through the On Tap Insurance Agency.* We also offer Guaranteed Asset Protection, or GAP, to help pay off your remaining loan balance if your vehicle is stolen or damaged and is deemed to be a total loss; extended warranties to protect against major mechanical expenses; and debt protection to cover your payments in case of an unexpected event.**

* Insurance products are not insured by NCUA or any Federal Government Agency; are not a deposit of, or guaranteed by the Credit Union or any Credit Union Affiliate; and may lose value. Any insurance required as a condition of the extension of credit by On Tap Credit Union need not be purchased from our Agency but may, without affecting the approval of the application for an extension of credit, be purchased from an agent or insurance company of the customer's choice.
** The warranty offered is not a deposit and is not federally insured by NCUA. The warranty is not guaranteed by the credit union nor an obligation of the credit union.  
Additional Resources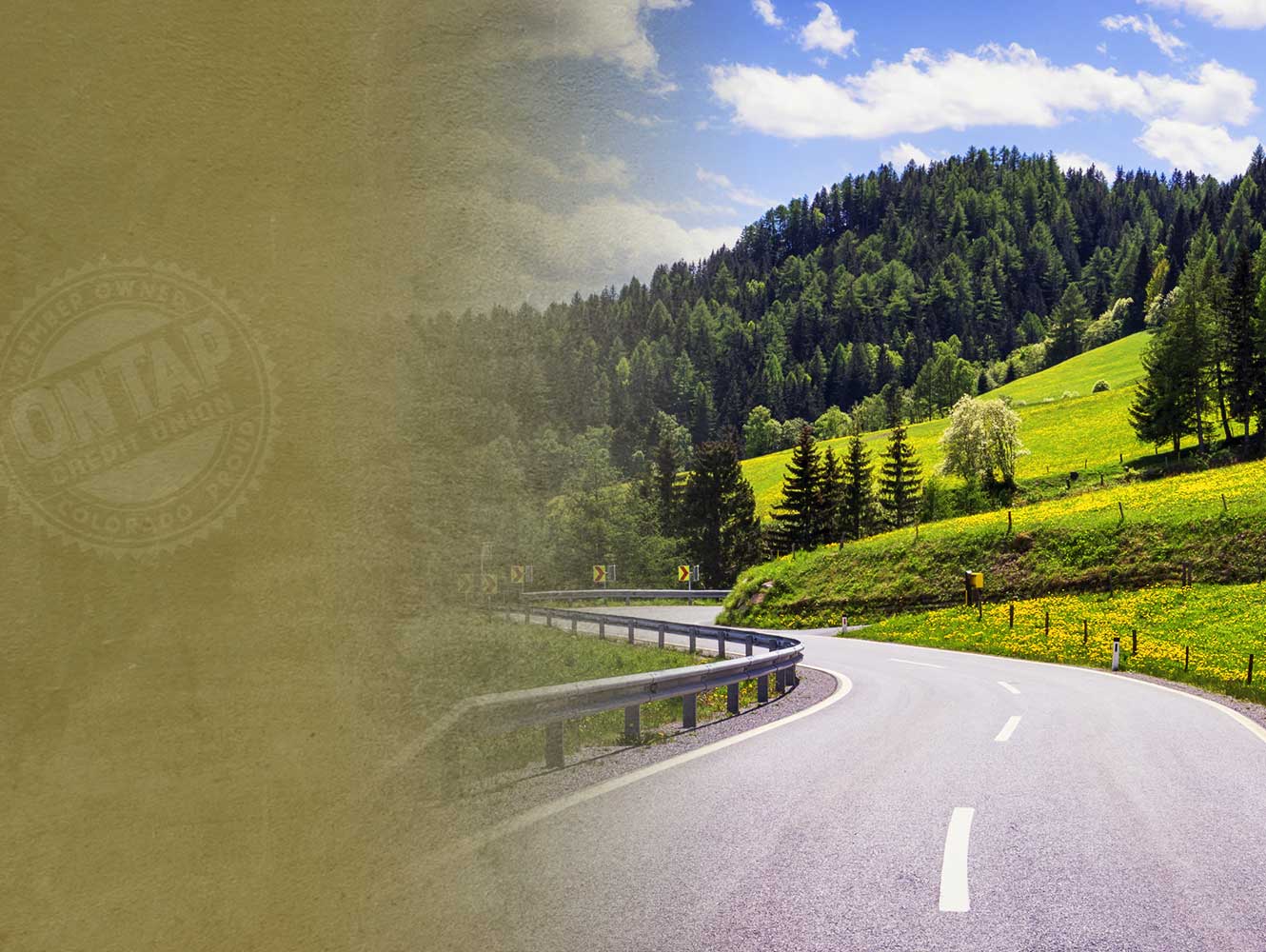 enjoy the freedom of the open road