Auto-Buying Services
Colorado AutoTrek, Inc. is an auto brokerage firm and auto club with a mission to help credit union members and the general public save time and money on vehicle purchasing and vehicle maintenance.
Autosmart
At On Tap Credit Union, we want to help our members save time and money when searching for their next vehicle.
Our AutoSMART online car-shopping tool will help you
Browse Vehicles from participating local dealerships through our website.
Search & Filter Results on our site to find the best options. You can use the detailed information, photos and cross-shopping tools to compare your favorites.
Streamline Financing on our site by connecting with dealers who know you're working with On Tap Credit Union and will expedite the process when you're ready to visit a dealership.
By starting on our website, shopping for a vehicle is as easy as 1, 2, 3: visit AutoSMART, choose your car and get your financing pre-approved.
Automotive Avenues
Choose from more than 250 pre-owned vehicles, an unlimited availability of new cars, or use their unique locator service to deliver the right car just for you. A hassle-free, auto-buying experience is what you'll find at Automotive Avenues. Plus, you'll receive a .50% APR discount on your auto loan rate when you finance with On Tap Credit Union. Call 303.750.5000 or visit Automotive Avenues online.
Automotive Avenues is different from other dealerships
The sales staff at Automotive Avenues is not just there to sell cars; they're there to help find the right vehicle for you. Unlike the traditional profit-based commission pay plan at a typical dealership, their sales consultants are non-commissioned, which allows them to concentrate on you and your automotive needs. Their loyalty is with you, never a specific make or model.
When does the haggling begin?
When does the haggling begin?
There isn't any! Their prices are set at or below market value, so there's no need for haggling. Their sales consultants strive to create an enjoyable experience by providing a relaxed atmosphere and presenting you with extraordinary customer service.
What if you change your mind after purchase?
What if you change your mind after purchase?
No problem! They offer a liberal 48-hour/200-mile "No questions asked" return policy and a 7-day/500-mile exchange policy on all pre-owned vehicles.
Two ways to buy
Shop online at www.autoaves.com. View hundreds of new and used vehicles in inventory, request a brand new vehicle or request a test drive.
Visit their sales lot at 10701 W 6th Ave, Lakewood, CO 80215 [View map]
Icar Automotive
With years of experience serving the Golden area, Icar Automotive is dedicated to offering high-quality, pre-owned vehicles. Visit Icar Automotive online to view their inventory from the comfort of home or call 720.510.3903 to plan your visit. 


Cars With Altitude
Cars With Altitude, located in Lakewood, CO, offers a wide selection of inventory from cars to trucks, SUVs, and vans. Find your new ride or sell your current vehicle all in one convenient location with expert service personalized to meet your needs. Visit Cars With Altitude online to view their inventory or call 303.954.9954 to get connected with their team. 


Drive N-Motion
Drive N-Motion is dedicated to offering affordable-luxury, pre-owned vehicles. Serving the Northern Colorado area for years, their non-commissioned paid sales staff is committed to providing you with an excellent car-buying experience by making the process simple and stress free. Search inventory from Drive N-Motion online or visit in person at any of their Northern Colorado dealership locations.
Carvana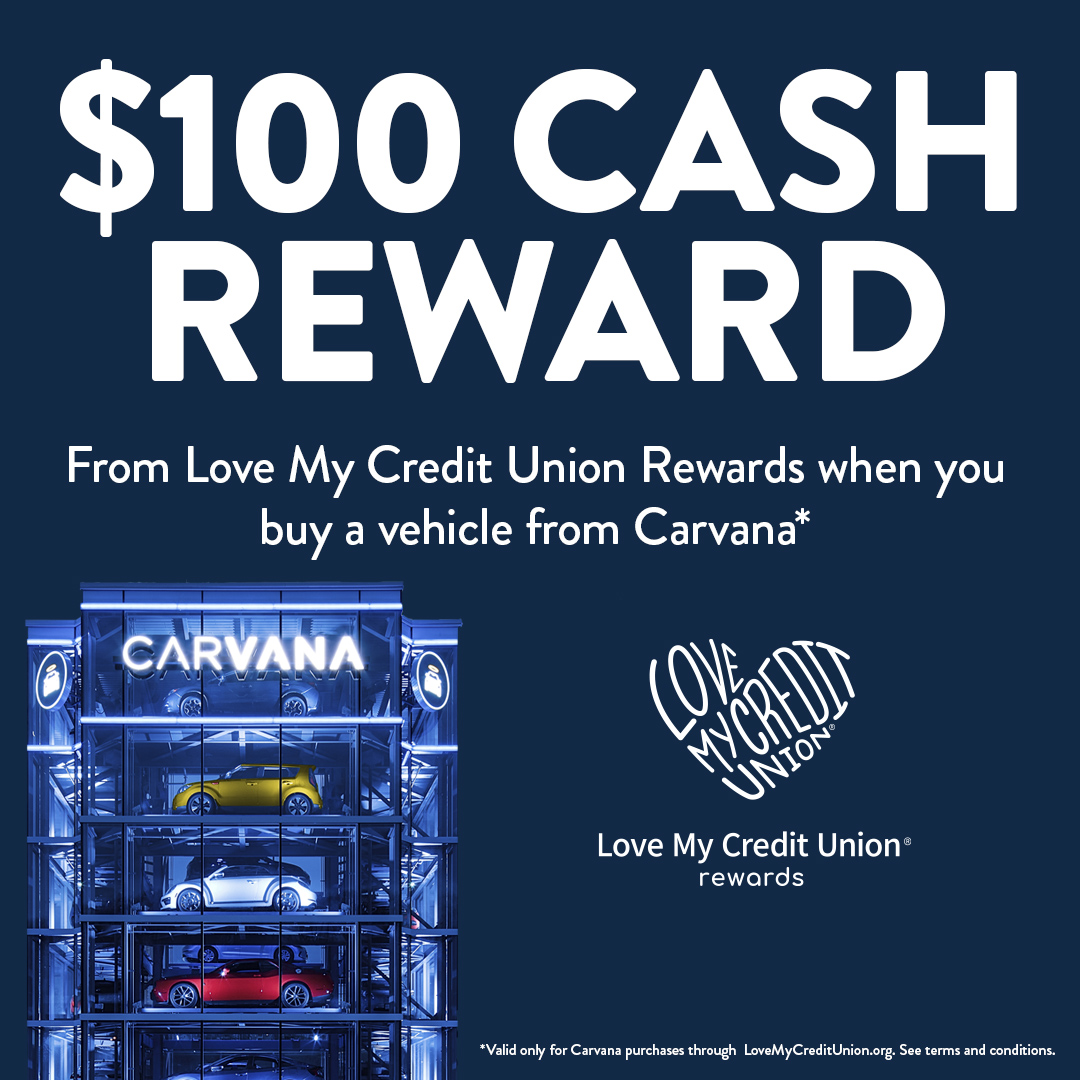 Credit union members can get a
$100 cash reward
from Love My Credit Union Rewards when you buy a vehicle from Carvana.
See terms and conditions.