Home Improvements that Pay Off
Po
sted on September 19, 2019
Investing in your biggest asset - your home - can increase your home's value when it comes time to sell.
Owning a home represents many things: financial success, emotional security, achievement, family, comfort. Our homes are where we return after work, relax with loved ones and sleep safely. Often, though, our home isn't exactly what we'd like, and we enter the realm of home improvement projects.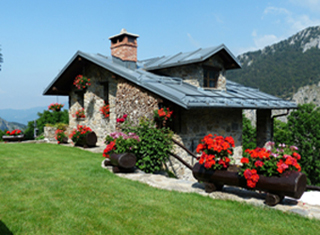 Home improvements can run the gamut from repainting a wall at the cost of a gallon of paint to remodeling a kitchen to the tune of tens of thousands of dollars. Deciding which home improvements to take on can depend on a number of factors.
If you're convinced that you'll be living in your home for the rest of your life, what most deem their "forever home" – then your first consideration is personal preferences. Go ahead and paint the ceiling pink and put in the 70s-era mirror squares. Your only limiting factor is the budget, and how permanent you want those changes to be.
However, if you decide you want to sell your home at some point, whether to upsize, downsize or upgrade, or to relocate for work or family, it makes more sense to tailor your home improvements to the eventual resale of your house. Simply put, some renovations recoup costs better than others.
Easy changes like wall color is something you can repaint at sale time, then choose a personal preference. But for more expensive improvements, keep in mind what the market value is. According to HGTV, below are the top home improvements that will earn back the most for your investment -
Kitchen and Baths




Home Maintenance




Curb Appeal




Adding Space (extra room)



Remember that enjoying your home is important, so undertake improvements that will help net enjoyment as well as financial return. And keep in mind that, whether you're looking to update your home for yourself or for sale, a Home Equity Line of Credit or Home Equity Loan can help provide the money you need to complete your projects – letting you use the equity you've built in your home to improve it.