Working for Our Members
Po
sted on September 13, 2017
As a cooperative, On Tap Credit Union has a very different focus than other financial institutions.
Because we're a cooperative, we're owned by our members who are also our customers, so 
I
nstead of working toward increased profitability and returns to stockholders, our focus is on serving the needs of our members. This starts with developing the right products and services to meet our members' needs, from low-interest credit cards to jumbo home loans, from investment and retirement services to a range of insurance products, from car purchases to car warranties. Our financial advocates are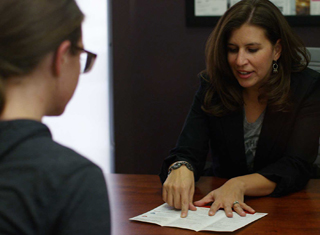 well-schooled in all our offerings, and from the foundation of that knowledge are able to recommend solutions to members wherever they are in their financial lives.
"If a member comes in for a vehicle loan, I'll talk to them about how GAP, our extended warranty program, and loan protection can reduce their financial risk long-term," says Angelique Strell, one of On Tap Credit Union's experienced financial advocates. "I'll also follow up with members to ensure that our solutions are working for them, and also find opportunities to educate them. For example, if we've gotten them a lower interest rate that's saving them money, I'll explain how putting this savings into an account with compound interest can help them build an emergency fund or save for retirement."
These types of conversations about building wealth and securing their financial future are unusual in traditional banking, which often focuses on meeting quotas for loan applications or new account openings. They're essential at On Tap Credit Union, though, where the openness that develops between members and our financial advocates supports personalized service and more effective financial planning that our members have grown to appreciate.
"We offer proactive customer service, finding ways to help each member," says service advocate Lisa Evanko. "We also build relationships over time, hearing about vacations and grandchildren. Sometimes, this helps us recommend solutions to them, like letting them know we offer car loans when we learn they have a child turning 16, but our goal is always to meet their needs, not to sell our services."
With a focus on our members' financial health and a true dedication to members' financial health, On Tap Credit Union's financial advocates also strive to protect them.
"I had a member call to transfer funds because he found what he thought was a great deal on gift cards on EBay," says Jen Boyd, communications advocate lead. "I expressed my concern that it might be a scam. Based on my comments, he investigated further and discovered that it was, and he was able to save his money."
Members appreciate On Tap Credit Union's approach, says Jen, who adds, "We have members tell us that our personal service and genuine caring is why they're members of our credit union."
On Tap Credit Union's advocacy approach to member service also resonates with the employees who deliver it.
"I feel like I'm truly making a difference for our members," says Angelique. "As an example, I coached a member through a bad credit situation until they were able to buy the car of their dreams. To see the plans you suggest to a member being successful is incredibly satisfying."
"We all appreciate the culture that On Tap Credit Union has built, and we're proud to be able to help our members," says Jen. "We feel like we're taking care of family."
We invite all our members to reach out to our financial advocates, whether in person at one of our branches or on the phone, to discuss your financial plans or to seek guidance when you're considering significant steps like buying a home or planning for retirement, or more everyday financial matters like opening a checking account or purchasing a CD.
If you would like to speak with a representative for planning, budgeting, or just general questions, please contact us at 303-279-6414. For lending questions, like debt consolidation, paying down debt or to apply for a loan, press 3 to speak with a Financial Advocate.