Watch Out for ATM Scams!
From Facebook to Amazon to banks and utilities, it's easy to see how our online accounts can add up. 
When you're taking money out of an ATM, you may be schooled to make sure other people in line won't catch your PIN – but there are bigger risks out there.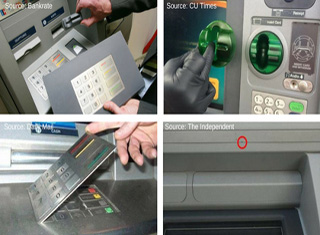 Skimming involves stealing ATM card information through electronic reading devices covertly affixed to ATMs. Watch out for pinhole cameras inserted into the walls or front of the machine that can capture your PIN as you enter it – always cover the pin pad with your hand when entering your PIN. Also look out for plastic appendages over the card slot, new or loose panels that can hide electronic scanners within the machine itself, and make sure the card slot itself isn't loose or askew.
Speaking of card slots, another scam involves cutting slits in the slot to make it more difficult for your card to come back out for retrieval. The thieves will then come back and open the machine and take your card. Similarly, make sure the cash tray will work – some fraudsters have affixed a solid plate in place of the normal door, holding the cash inside the machine for later retrieval.
If you're in doubt, don't use the machine, but if you have some doubts after using an ATM, contact your bank immediately to protect against your ATM card information being used against you.