Time to Buy or Keep on Renting?
There's nothing like the feelings of freedom and achievement from owning your own home.
It's also gratifying to know that part of every monthly payment is going to build your home equity, which increases your long-term financial assets, rather than going into a landlord's pocket.
There are many other reasons people want to buy a home:  there's a new baby on the way, children are ready to go to school and you want to find a good school district, you want a yard for your dog, or as simple as you're tired of hearing your neighbors.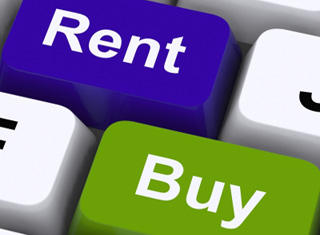 Whatever the reason, taking the leap from renter to owner can be intimidating and does require some level of financial resources. Here are some things for you to think about when deciding whether it's time for you to make the important decision to become a homeowner.
Rental costs are increasing, making mortgage payments more within reach for many people. If you're paying $1,000 in monthly rent, you will likely qualify for a home loan of about $197,000; if you're paying $1,500, you'll like qualify for a $296,000 mortgage, not including the costs you'll have for insurance and property taxes, new expenses you've not been facing as a renter:

To buy a home, you will need a down payment of at least 3.5%.  The down payment can come from savings, an inheritance, a loan on a secured assets, or can be gifted.  Adding that down payment amount to the amount a bank will loan you will tell you the price range of home you'll be able to purchase, keeping in mind the cash you'll need at closing.

It typically takes four years to recoup the closing costs, so if it's likely you'll be selling the house sooner than that, for example if you know you'll be moving or if your employment isn't stable, it might be better to wait. 

Keep in mind that when you own your own home, you're responsible for maintaining it.  That means everything from mowing the lawn to getting your furnace serviced. Make sure you have both the time and the financial resources to meet these obligations.




Buying a home is a significant, long-term decision, so you need to really think it through.  For example, if you're considering buying a home because you need more room for a new baby, you may also be considering having one parent leave a job to stay home with your family.  This will reduce your monthly income, which could make meeting a mortgage payment a challenge.

In later years, the equity you've built in your home can be tapped through a home equity loan or home equity line of credit (HELOC) to pay for children's education costs, renovations or other significant expenses.

In addition to the other benefits home ownership can provide, a mortgage also provides a great deduction come income tax time because the mortgage interest you pay – which is the bulk of the annual payment – could be tax deductible.

Buyers looking for first-time home loans have access to some special programs, including On Tap Credit Union's RedSidetm loan and savings program to help get you started on the right track to homeownership.
Wherever you buy in Colorado or even out of state, On Tap Credit Union's home consultants are here to help you navigate the mortgage process.  For more information on your options, give us a call at 303.279.6414. 
Photo credit: Stuart Miles, via freedownload.net