Tapping the Equity in your Home
Po
sted on September 7, 2017
For most homeowners, their house is their single largest asset - and one that can be used!
Depending on how large the down payment and how long into the mortgage, the equity built up in the home can be significant. This represents a powerful financial asset that can be tapped through a home equity line of credit (HELOC) or a home equity loan. Best of all, the money accessed through either solution can be used for anything the borrower wishes, from home improvements to vacations, from education to car purchases.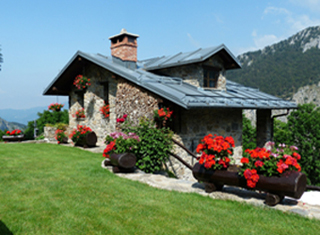 A HELOC is a revolving line of credit, meaning that a limit is set when the line is opened, and the homeowner can access the funds as needed, only paying interest on the balance that's been drawn. With On Tap Credit Union's HELOC solution, there is no limit to how many times the HELOC is accessed, though there is a $500 minimum per draw, and no fee for a zero balance. In contrast, a home equity loan is similar to a first mortgage in that the loan amount is set and all the funds delivered at the outset, with interest charges accruing for the full amount from the beginning. This is why home equity loans are sometimes referred to as second mortgages.
HELOCs and home equity loan also differ in their interest rate structure. On Tap Credit Union's HELOCs have a variable interest rate tied to the federal prime rate, and can move up or down up to four times in a year; our home equity loan is a fixed rate product. The actual interest rate for either product is also impacted by the borrower's credit rating. The terms are also different: the HELOC has a draw period of 15 years, with another 15 year period to repay the principle balance; the home equity loan has up to 15 year payback period. Both our HELOCs and home equity loans include interest and principle in the monthly payments, in contrast to other financial institutions that may only include interest in the monthly HELOC payment, so the principle is not paid down unless the borrower has the financial discipline to proactively add to the minimum payment.
HELOCs offer borrowers a lot of flexibility: for example, one month you can draw the amount you need to finish a kitchen remodel; the next month, you can draw what you need for a significant car repair. With On Tap Credit Union's product, you can pay off your principle balance at any time and maintain a zero balance for as long as you like with no fee. Some homeowners open a HELOC just so they have fast access to emergency funds. Opening a HELOC can actually improve the borrower's credit score, as long as it's not maxed out and the monthly payments are made on time.
Home equity loans have their uses as well, typically when the amount needed is clearly defined. For example, a borrower may use a home equity loan as a debt consolidation tool, in which case they'd know the exact amount of the other debts they'll be paying off.
On Tap Credit Union will open HELOCs and home equity loans up to $250,000, and in some special cases even larger. Depending on the borrower's credit worthiness, we'll support a loan to value ratio up to 95 percent and occasionally even 100 percent. The higher the loan to value ratio, though, the higher the interest rate on the loan will be, once the ratio is over 80.
Obtaining either a HELOC or a home equity loan does require documentation to prove income, as well as a copy of the declarations page from the homeowners insurance. There are closing costs associated with the loans, ranging from as low as $200 up to $800 for a very large loan. In addition, a home appraisal will be needed, either a "drive-by" or a full appraisal (depending on the home and the lender). With a HELOC, the closing costs will need to be paid (up-front) by the borrower; with a home equity loan, closing costs can be rolled into the loan. Though the appraisal will need to be paid up-front in both cases.
Deciding whether to open a HELOC or obtain a home equity loan is an important decision and one that's based on the specific needs and goals of the borrower. Contact one of On Tap Credit Union's Financial Advocates at 303-279-6414 option 3 for insight and information to help you make the best decision for your situation, or apply online.