Managing Student Debt
Posted on October 5, 2015
one of the biggest reasons to go to college is to gain a strong foundation for a successful future.
Unfortunately, increasing college costs and decreased savings has led to an explosion in student debt, making achieving that success a bit more challenging. According to CNN, 40 million Americans, including seven in ten graduating seniors, are carrying student loan debt to the tune of $1.2 trillion. Nationally, the average per-student debt is approaching $30,000, and while Colorado ranks only 36th in the nation, our students are still graduating owing an average of $24,500.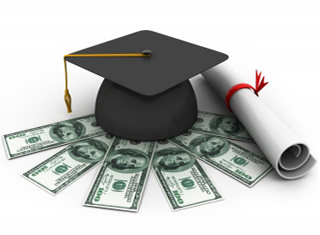 Paying back this debt is usually a long-term proposition – for federal loans, the repayment period can be 10 or even up to 25 years. Depending on the specifics of your loan, you may be able to select among different repayment plans. The Federal Aid Division of the U.S. Department of Education advises talking with your loan servicer to determine the best plan for you. This could be a monthly payment as low as $50.
While choosing a low monthly payment may be very appealing, especially when you're just starting out, it may not be the best option long-term. Consider this: interest costs continue to accrue on the principle amount of your loan, so the longer you take to pay off that principle, the more you'll end up paying in interest.
Paying off debt to reduce interest costs is a primary financial management strategy. Paying it off aggressively is another story - here's how one student paid off more than $34,000 in student loans in just four years. Her advice is echoed elsewhere: reduce your expenses, earn additional money where you can, and prioritize paying off your debt.
Sometimes, though, making any payment at all is a challenge. According to the Federal Reserve Bank of St. Louis, 17 percent of student loans are delinquent. The problem with skipping payments is that, in addition to not paying down the principle and thus incurring more interest costs, borrowers are charged late fees, adding further to the financial burden. Once past due by 90 days, borrowers also face damage to their credit history that can take years to improve. If you're facing a severe financial challenge, you may qualify for an income-based repayment plan, which will enable you to continue to make payments, thus protecting your credit history, within your discretionary income level. Under the Health Care and Education Reconciliation Act, these payments could be as low as 10 percent of your income over a set level of living expenses.
The Health Care and Education Reconciliation Act also allows for debt forgiveness after 20 years of consistent payments for most borrowers, and after only 10 years for those who work in public service. Other types of student debt forgiveness, cancellation or discharge are also available to qualified borrowers.
If you're looking for help managing your student loan or other debt, we're here to help. To speak with one of our expert financial representatives at our Golden branch, call 303.209.9147; to reach a representative in Arvada, call 303.209.9146.
Photo by ddpavumba.via freedownload.net