Flood Insurance Covers More than a Rainy Day
Many people think that if their home isn't in a designated flood zone, they don't need flood insurance.
After all, if the mortgage company isn't requiring it, it must not be that important, right? You may want to think again.
Sure, if you're living next to a river, you can see why you'd need flood insurance. But even if your home sits alone on the top of a hill, flood insurance can protect you. It all comes down to how insurance companies define a "flood." Natural disasters like a river overflowing its banks and filling your basement certainly count as floods, but so do certain human-caused events.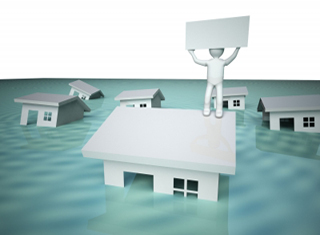 "If surface water on two or more properties causes damage, it's considered a flood," says Lynn Thompson, an insurance agent with the On Tap Credit Union Insurance Agency. "This could be two or more properties, or even the street and one property."
Say, for example, the fire department puts out a fire uphill from your home, and the water runs down the street, onto your property and floods your basement. That's considered a flood. Or say your neighbor's sprinkler system runs continuously for many hours, causing water to build on the surface of their lawn and flow downhill to damage your house. That's a flood.
"Once something is designated as a flood, any damages won't be covered on a general homeowners insurance policy," says Thompson. "Just because you're not in a flood zone doesn't mean you don't need the protection of flood insurance."
Flood insurance is a separate policy managed by the National Flood Insurance Protection Agency (NFIPA). The good news is that flood insurance – if you're not in a designated flood zone – isn't that expensive. "In low risk areas, which includes most of Colorado, you can get $250,000 in building coverage and $100,000 in content coverage for less than $500 a year," says Thompson. "The premium is standardized so there's no need to shop around."
Unfortunately, if you are in a flood zone, flood insurance is pricey: upwards of $4,000 a year, payable up front. If you find yourself in this situation, Thompson says the NFIPA may supplement your premium and even offer a discount if you purchase flood insurance as soon as you find out that you're in a flood plain. This last point is key for Colorado home owners – FEMA started remapping Colorado flood plains in the last year, so a home that wasn't previously in a flood plain may now be and require flood insurance.
"You're best approach is to review your policy with your agent every year and investigate whether you're in a flood plain," says Thompson. "If you find that you need or want flood insurance, your agent may not be comfortable writing the policy for you. You can find a specialized agent through the National Flood Insurance Program, or contact On Tap Credit Union."
Insurance products are not insured by NCUA or any Federal Government Agency; are not a deposit of, or guaranteed by the Credit Union or any Credit Union Affiliate; and may lose value. Any insurance required as a condition of the extension of credit by On Tap Credit Union need not be purchased from our Agency but may, without affecting the approval of the application for an extension of credit, be purchased from an agent or insurance company of the customer's choice.
Photo by nattavutvia freedownload.net