Enjoy Powersports: Even the Name Sounds Fun
Longer days full of sunshine call many of us outside to enjoy all that Colorado offers.
While natural beauty certainly abounds, our state also sings a siren call to the adventurous, from extreme skiing in winter to white water rafting in the summer. One way to jump into the adventure is with powersports: high-octane activities that put us on the backs of motor bikes and ATVs, speed boats and personal watercraft like Jet Skis and SeaDoos.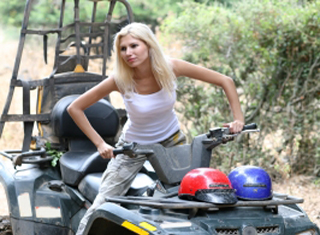 There's no doubting the appeal. On the back of a motor bike or ATV, you can go farther and faster than on foot, experiencing more of our state's natural beauty or enjoying purpose-built terrain parks. When it comes to boats, it's hard to choose between feeling the wind in your face from the drivers' seat or from the tow rope as you cut a curve on your water skis. In fact, powersport enthusiasts are found in nearly 6% of U.S. households.
Once you've decided to enter the wide world of motorized fun, it's time to choose your ride. Do you want to enjoy the water or the land? By yourself on a motor bike or personal watercraft, or with a friend on a dual-seat utility vehicle or with a crowd on boat? Whichever you choose, getting on the back of a piece of powersport equipment can demand a big price tag: a new ATV can cost from $2,000 - $25,000, a JetSki from $10,000 $15,000. As with cars and trucks, buying used equipment can reduce your cost dramatically, and fortunately financing is available through Coors Credit Union and others so you don't need to have the cash up front. Keep in mind that unless you have a sizeable truck that can carry your equipment in the bed, you'll also need a trailer to get these off-road vehicles from your home to where the fun is.
Whichever powersport you decide to pursue, your safety is paramount. It's tragic that hundreds of people are injured or killed each year while using ATVs and other powersports equipment, so make sure you follow all safety rules and use extreme care when out enjoying your powersport equipment. No amount of excitement and adventure is worth risking serious injury, but when they're enjoyed properly, these powersport vehicles can provide many years of fun.
As with regular vehicles, powersport financing can be found as low as 5.99% through On Tap Credit Union. Call to schedule an appointment at 303-279-6414.
Photo credit: imagerymajestic via FreeDigitalPhotos.net